Special 20% discount from 2 pyjamas and more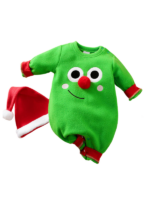 Little Green Christmas Creature with Big Red Nose 3D Baby Pajamas, green and red
For parents and families in love with Christmas, here are the new green baby Christmas pajamas, cute little red-nosed creature style, that will accompany your newborn baby during his winter nights. Christmas pajamas for babies.

Little Green Christmas Creature with Big Red Nose 3D Baby Pajamas, green and red
Description
The Christmas Fabric's amazing baby Christmas pajamas style little red-nosed creature hyper realistic 3D green and red color for a fun and galvanizing Christmas!
Features :
Green and red Christmas pajamas with a cute little green creature style with a realistic red nose in 3D for babies
Woven, breathable, anti-pilling, anti-shrink
Cold wash 30° by hand
5% elastane, 65% syntetic, 30% cotton
Available for newborns and babies from 3 months and up
Comfortable and elastic, rather large size